Hawaii Natural Hoofcare
Susanella Noble, CNBBT
Certified Hoof Care Practitioner
Holistic Lameness Specialist
Serving the Big Island of Hawaii
Fee Schedule
Introductory Evaluation/Workup/Trim $75
Maintenance Trim $60
Laminitic/Navicular horse $75 per hour plus supplies
Casts @ $70
Travel expenses pro-rated (Kona & Waimea @ $15)
(neighborly referrals help with travel costs)
24-hour notice required for cancellation
Services
Trimming
Each hoof is evaluated and shaped to bring the structures into balance along its True Flight Path. Many distortions indicate pathologies that take frequent, gradual trimmings over time to heal.
First visit includes monitoring baseline vitals: weight, pulse, respiration, refill, hydration, overall appearance.
All work is charted and photographed to ensure success for each client.
A balanced barefoot trim is the best therapy for distorted hooves. Severe pathologies may require orthopedic casting to keep the horse out of pain and accelerate the healing.
The use of knitted fiberglass casting tape has opened new frontiers in healing hoof pathologies. It gives the foot protection and stability while allowing air and moisture to wick and evaporate. Casting is especially effective for severe laminitis, navicular syndrome and transitioning from shoes to barefoot.
Sports casts with traction can be used in place of hoof boots for protection during rugged competitions.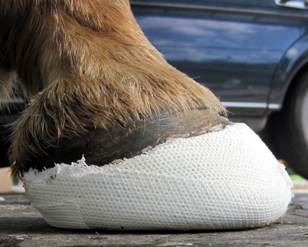 Casting tape has proven more effective than orthopedic metal shoes w. pads or plastic clogs because the cast is filled with a spongy glue gel which stimulates the growth of the frog and sole. The outer shell sets and molds to each unique hoof and distributes the weight to less painful areas.
Lameness Prevention
Maintaining healthy, solid hoof capsules is the most important factor in preventing lameness. It requires: 1) Correct shape 2) Green Diet 3) Good footing 4) Frequent exercise
Teaching
In addition to my Apprenticeship Program, I teach owners to maintain their own horses, donkeys and mules. We cover tools, techniques, mapping, evaluating distortions and the ideal shape for every hoof. Owners who qualify do their own trimming keep journals and have me stop by a couple times a year to monitor their progress.
Owner's Responsibility
Horses, donkeys and mules shall be haltered, brushed, fly-sprayed and waiting for farrier. Shade and good footing must be available. Owners who are learning to trim should wear boots, jeans and gloves.

Owner Comment
Common sense is, unfortunately, not that common. Little horsey feet come out of the womb with feathers. That's so they can fly! (Probably how the Pegasus legend was born). But man thinks he owns everything. He is jealous of the beautiful horse. He makes him his beast of burden and tries to "ground" him with metal feet. Bad man. Bad, bad man. One of my favorite things is to watch my 4 babies run after I feed then their "salad" or when I walk them to a new pasture. They are just so damn beautiful. I live to watch them "fly", unencumbered by metal feet. They are happy horses and wonderful teachers. Thank you for teaching me to maintain them and their healthy hooves. -- D

120916